The 2nd PCB model cubietruck discussion
It has been nearly a year since the Cubieteam launched the first open-source-hardware product named Cubieboard in Aug. 2012.  The Cubieteam started with no product and no market penetration. But as one of Cubieteam, I oversaw the move into a national innovation incubator park from a peasant house, then develop a product from hand soldering to machine mass production.  It attracted numerous companies as distributors.  Every achievement was hard work for the Cubieteam, but it has brought us great satisfaction.
The Cubieteam is a very small team with several young people.  None of us has business experience, or managing a company, but we love technology. We are united because of a common dream, "making a cheap small-sized computer and exchange the technology with geeks all over the world" . Unexpectedly, we received over $90000 to start volume production. This money came from many enthusiasts, friends of the project, and agent companies who generously prepaid to obtain the board. It makes us feel that the "world is filled with love and trust". Over the past year many people have contacted us to customize and modify the product for them, however making a new product is not very easy. The small Cubieteam has no resources to finish more projects, but we didn't want to disappoint our enthusiastic fans.
After just one year the technology of computers based on embedded SOCs has improved. We are proud to be on the cutting edge.  Based on many suggestions from the forum, and customers, the Cubieteam decided to design a second open-source hardware product. It's another PCB model, named CubieTruck. Here are the hardware features:
(Translated by Don White)
Hardware Features:
1、AllWinnerTech SOC A20,ARM® Cortex™-A7 Dual-Core,ARM® Mali400 MP2 Complies with OpenGL ES 2.0/1.1
2、1GB/2GB DDR3@480MHz (960MTPS)
3、HDMI&VGA 1080P display output on-board
4、10M/100M/1G Ethernet
5、Wifi+BT wireless connection with antenna on-board
6、SATA 2.0 interface support 2.5' HDD,(for 3.5' HDD, only need another 12V power input)
7、Storage solution:NAND+MicroSD or TSD+ MicroSD or 2*MicroSD
8、2 x USB HOST,1 x OTG,1 x Toslink (SPDIF Optical),1 x IR,4 x LEDs,1 Headphone,3 x Keys
9、Power:DC5V @ 2.5A with HDD,support Li-battery & RTC
10、54 extended pins including I2S, I2C, SPI, CVBS, LRADC x2,UART, PS2, PWMx2, TS/CSI, IRDA, LINEIN&FMIN&MICIN, TVINx4 with 2.0 pitch connectors
11、PCB size:11cm *8cm*1.4mm,very suite for installing a 2.5' HDD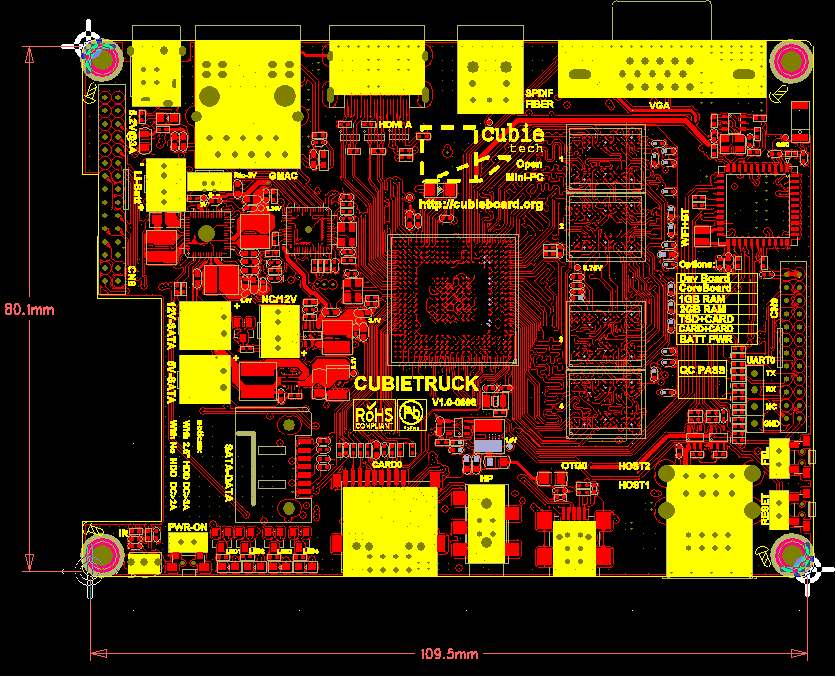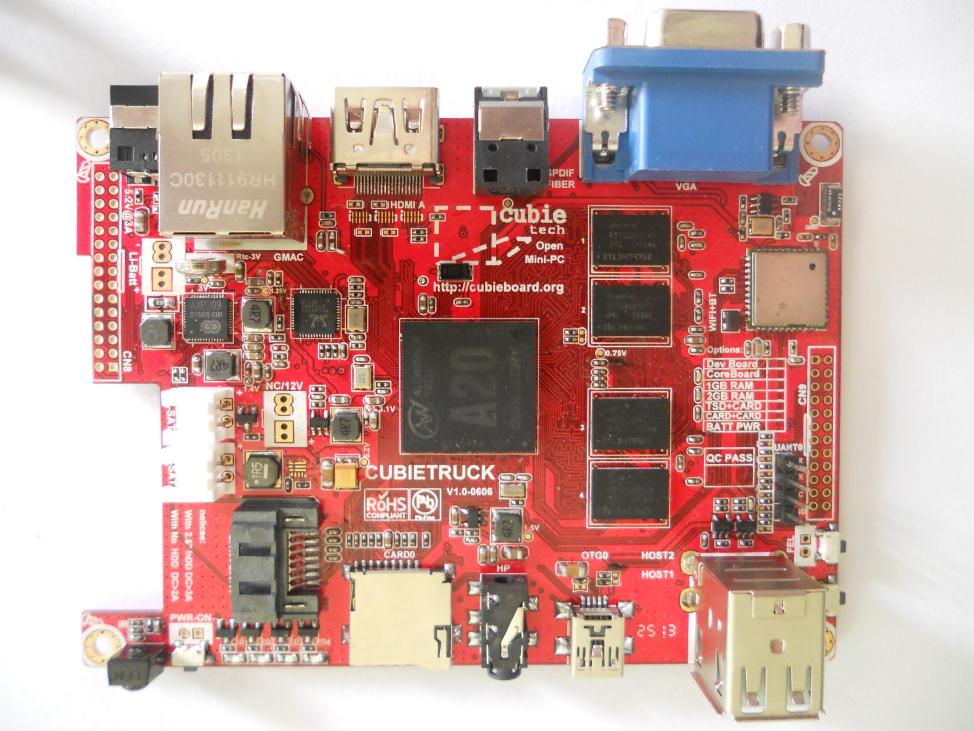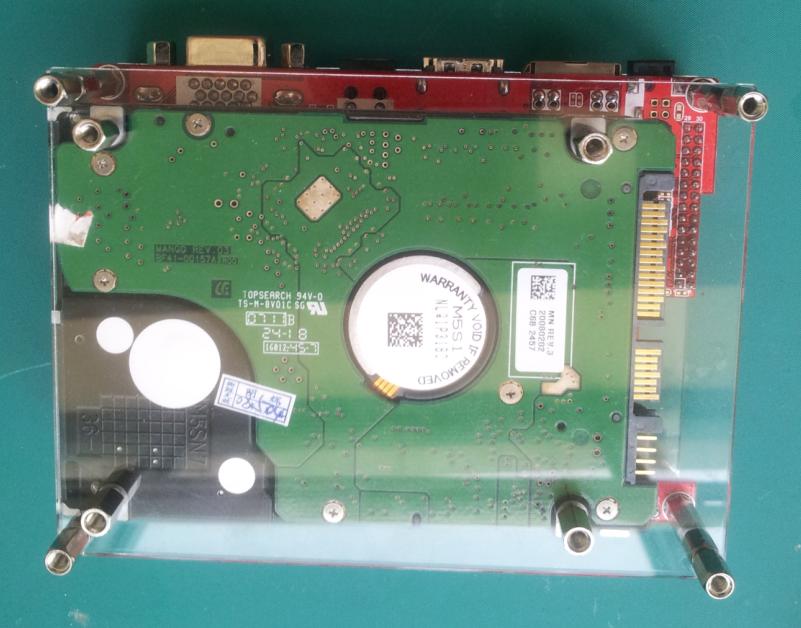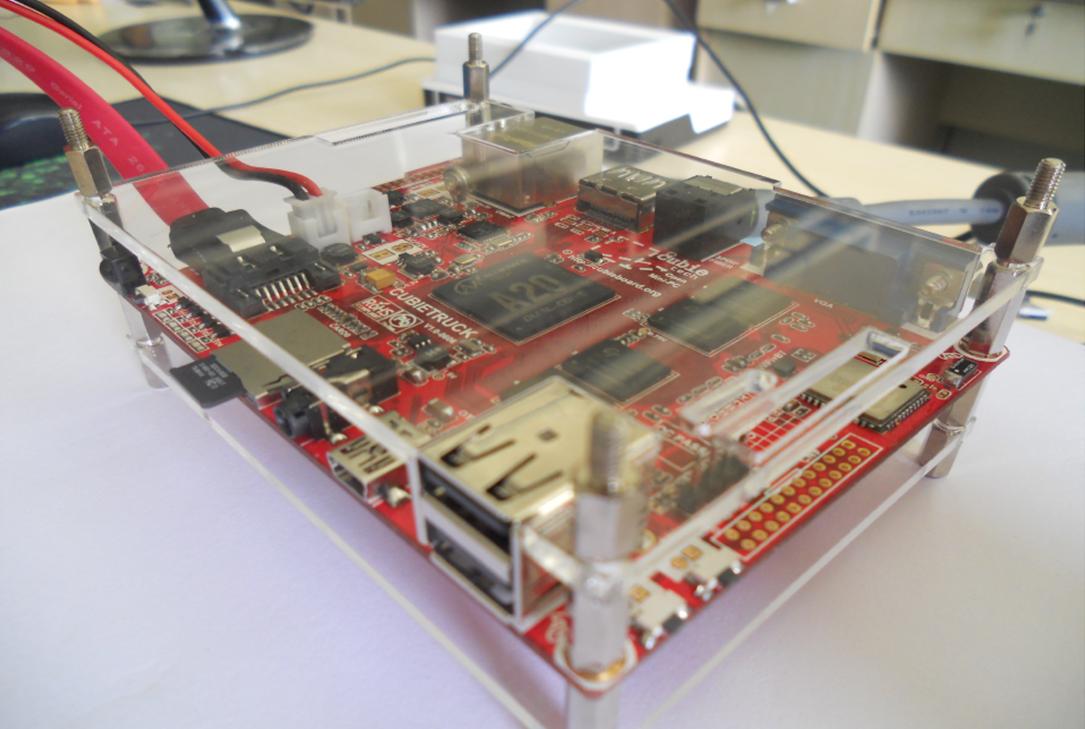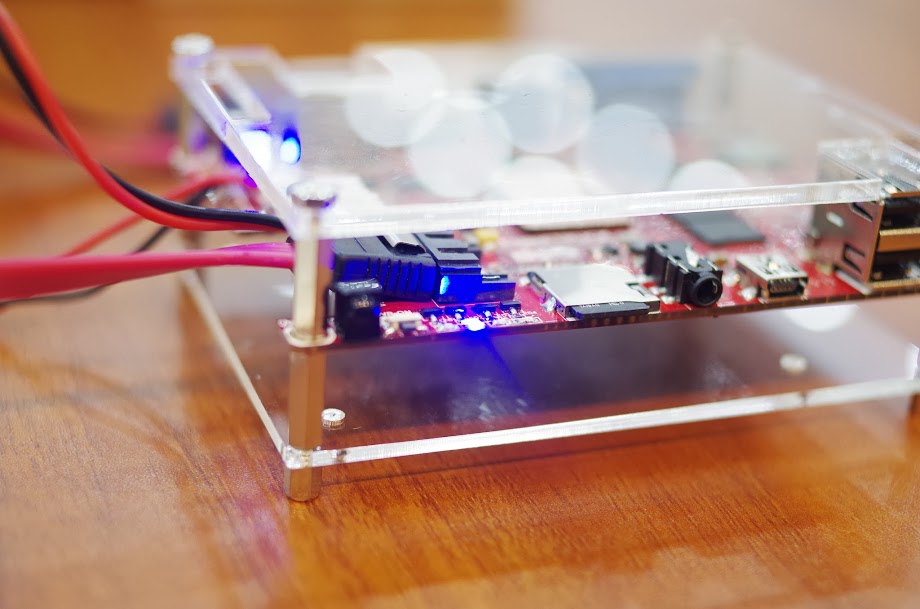 中文:
自从2012年8月份cubie团队推出第一个开源硬件产品cubieboard以来,时隔将近一年,从外界的感觉来看cubie团队没有什么新作,几乎无所作为。但是作为cubie团队中的一员,亲身经历了她从一个农民房搬进了国家级创新工业园,产品从手工焊接各个部件变成机器大规模量产,销售从几个朋友代卖发展到拥有几十个国际销售公司作为代理商,每一步成长对于cubie团队来说都是喜出望外的,当然也是异常艰辛的。
Cubie团队是一个小型年轻人团队,其中没有一个人有生意商业经验,没有创办经营公司的经历,我们只是几个酷爱技术的年轻人,因为有着一个共同的理想,要做一个廉价的小电脑,让全球喜欢技术的人都能参与进来开发和应用。没有想到cubieboard这么一点小玩意竟然得到全球众多爱好者和友善人士的资助,让我们获得9万多美金来进行首批量产,全球几十家著名销售公司竟然也愿意提前付款来代理我们的产品,我们为世界充满信任倍感欣慰,同时也感觉到责任更加重大。这么长时间以来,来自全球各地的很多热心人给我们发来邮件,请我们定制或者修改产品,这让我们心中充满矛盾,我们深知做好一个产品不容易,cubie这个小团队根本无法承揽更多的项目,但是拒绝钟情厚爱自己的人也是一种内心的煎熬。
仅仅一年时间,嵌入式硬件发展神速,嵌入式Linux Mini PC也开始崭露头角,作为亲身经历和推动的一份子,我们非常兴奋和自豪。在综合吸收了来自邮件、论坛、客户、和销售反馈的众多建议和需求之后,cubieboard团队决定开始公开第二个开源硬件产品CubieTruck,这是一个不同于cubieboard的板型,以上是硬件规格的罗列。