CubieBoard4/CC-A80 Released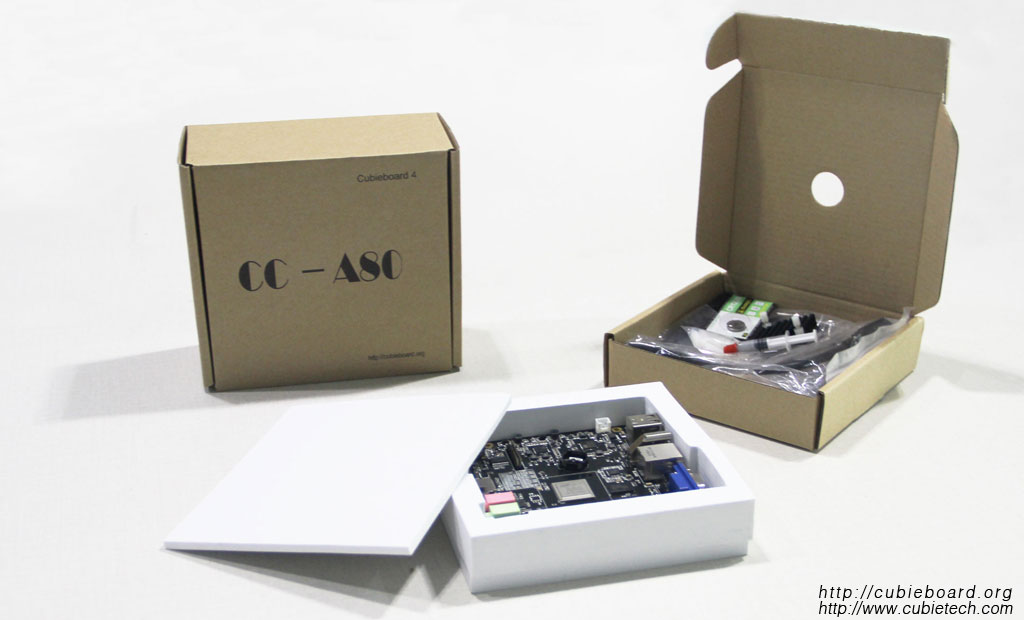 Cubieboard4 also named CC-A80, is an open source mini PC or single board computer which has ultra-powerful performance and mainly aims to office, games and entertainment… The main chipset Allwinner A80 is a 28nm Octa-Core A15/A7 big.LITTLE architecture application processor with a CPU dominant frequency of 2GHz. It also has the amazing GPU 64-core GPU graphics core PowerVR G6230 which supports openGL ES, openGL, even openCL. CC-A80 has the standard interfaces like desktop computer, such as HDMI&VGA, 100M/1000M RJ45, 4 USB2.0 host ports,1 USB3.0 OTG port, Audio output, Microphone input, dual-band wifi and bluetooth 4.0, micro SD card. It has 2GB DDR3 on-board memory and support Li-Po battery UPS power input, so that we can say it's a good mobile development platform.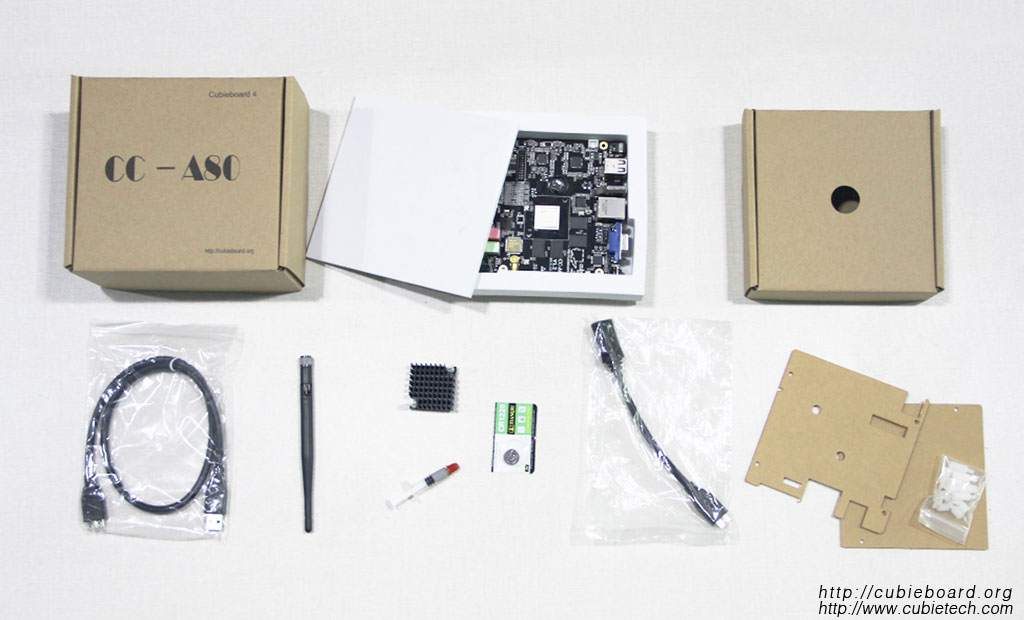 In the past eight months, Our team has been working for software system building and optimization. We have released 3 distributions for cubieboard4, they are Android, Ubuntu Linaro desktop, and Debian server system.
In regarding of the Android System, we have 3 revised versions, you can get the system building log Here. We also share the Android source code to community, you can download the SDK from HERE. It supports both FTP downloading and GIT clone methods.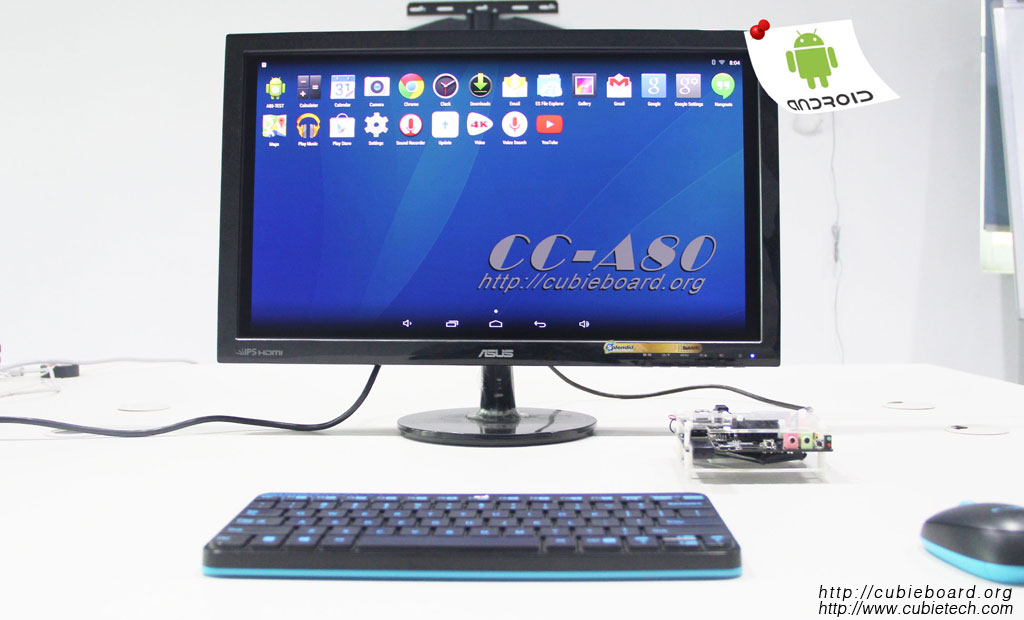 Android image will be preinstalled for cubieboard4 before shiping, because we do hardware testing with a APK in Android system in pursuit of higher efficiency. You can download the firmware/image HERE.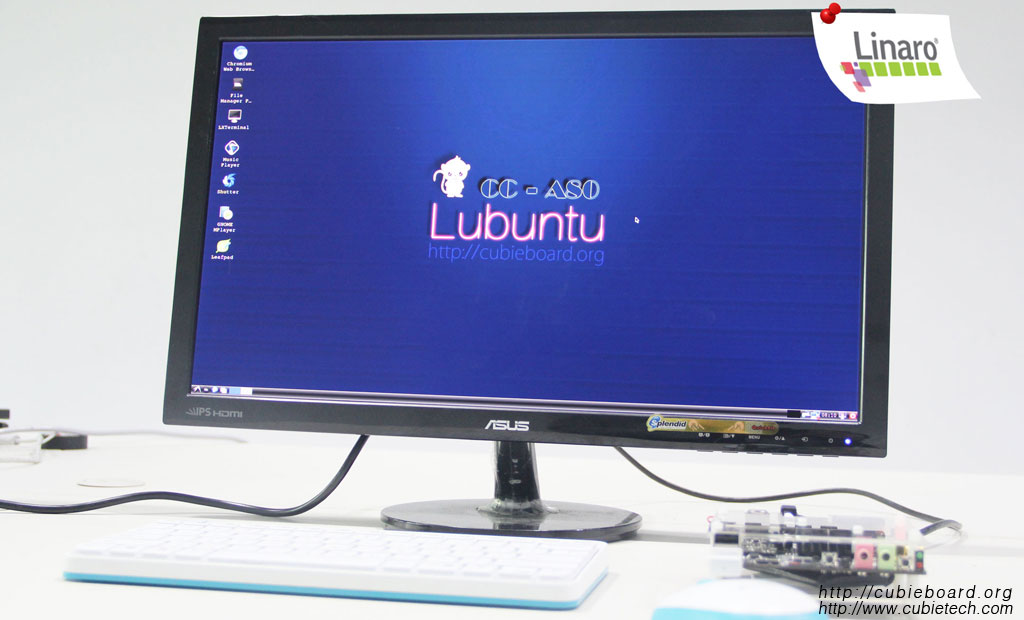 In the Ubuntu Linaro Desktop distribution, and we also released 3 versions. We will continue to update it. Our goal is to make Cubieboard4 as a office mini PC, and to meet the basic office and entertainment requirement. This distribution has been installed the basic desktop environment and some other common tools. There is a good news for everyone, we have ran a desktop environment with graphics acceleration for the linaro-desktop-V0.3, the GPU supports OpenGL ES3.0 now. But there is a lot of work need to do, such as OpenGL, OpenCL, and video hardware decoding, we are still working on it. The firmware can download HERE. More system details can visit this Readme.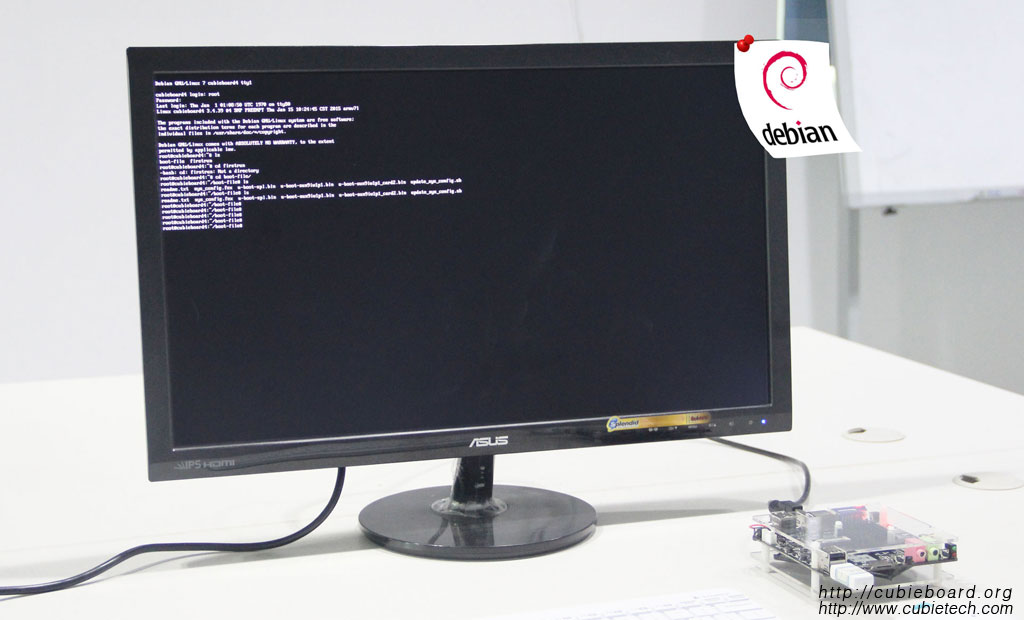 Last month, we finished the first Debian Server distribution , this distribution is created from zero for CB4. Because of none GUI desktop environment, this system is more suitable for embedded control and server application areas. You can get this distribution HERE ,more details are HERE. The source code is also available to public, you can get the it according this Guide.
We also built a document system for cubieboard4 development board. This is offline documents FTP Folder. Cubieboard4 also has online DOCs system which is under construction.
At present, we have a lot of work in software aspect need to do, we hope everyone can participate in community together to promote open source hardware. If you need free sample, please feel free to contact with us, we are planning to donate some free boards to the senior developers in community and some non-profit organizations.
Nowadays, some of the Cubieboard dealers/distributors are ready to ship it. You can buy it in their on-line shop from this BUY page. Maybe some local dealers need some more time to stock up. The unit price is around 125USD without shipping fees.