Baseboard for the Cubieboard
A developer board like the Cubieboard is very extensible and can connect to a variety of devices including sensors. To simplify the connection to additional devices, it is common to have an additional printed circuit called daughterboard or baseboard.
edit (15 Jan 2013): This board is a baseboard, because it acts as a base to the Cubieboard. The Cubieboard can take power from this baseboard.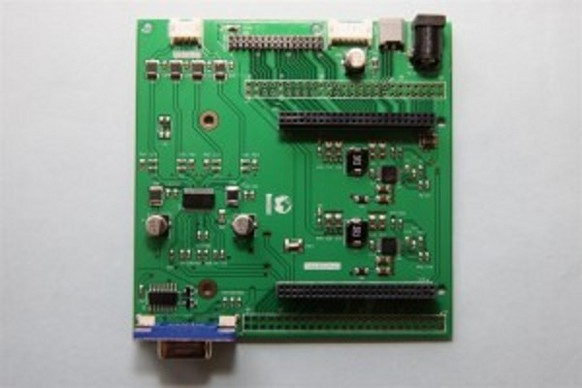 George Ioakimedes informs us of the following baseboard daughterboard design:
2mm pitch female sockets to accept Cubieboard
All 96 Cubieboard pins brought out to 0.100″ pitch headers
4-pin power header to match optional power input header on Cubieboard
LVDS header w/ separate LCD Backlight connector to match low cost LVDS cable
4-wire touch screen connector
Standard 2.5mm DC jack, 12V-18V input
Onboard 5.0V switching regulator to power the Cubieboard and provide 3A (available on 0.100″ header)
Onboard 3.3V switching regulator to power LCD and provide 3A (available on 0.100″ header)
15W Stereo Class D Audio Amplifier
VGA circuit and HD15 connector
This post will be updated as soon as the purchase details are available.