A Debian Image for Cubieboard2 – Cubieez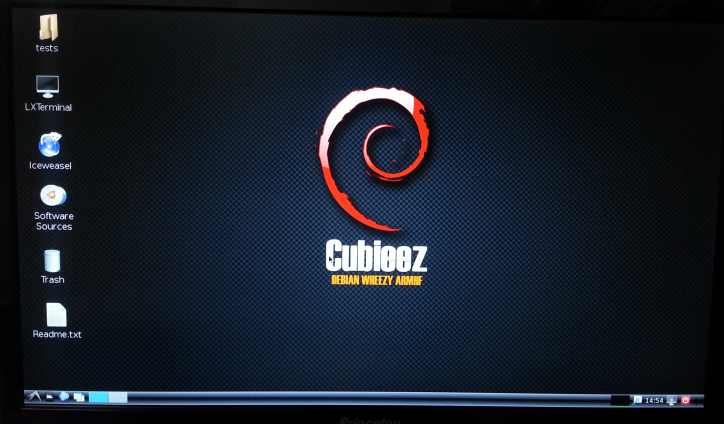 Cubieez is created by drkbcn from cubieforums. It is based on Debian 7.1 ARMHF.  Let us take a look at the description of the image.  (Please see the origin topic at here)
Whats new on Cubieez 1.0 (A20)
Kernel 3.4.43 with perfomance governor and NOOP I/O Scheduler (patwood's kernel branch)
New Cubie-config script, some bugs fixed (still without nandinstall mod)
MALI + G2D + CedarX support
Verbose boot
Static MAC address (uEnv.txt)
Updated iceweasel
To do / Known bugs
Make flash sites work with normal users (permission related bug? Help needed)
Some features of Cubieez for A20
CPU governor set to performance
I/O Scheduler to NOOP increases perfomance on flash devices
Kernel 3.4.43 with ARMHF from patwood's "cedarx" branch
Based on Debian 7.1 Wheezy, creating the rootfs from zero for Cubie
Kernel support to major USB Wi-Fi adapters
Clock & date synchro with fake-hwclock (via ntp)
Debian 7.1 ARMHF repository (better than Ubuntu one)
LXDE base desktop with low mem consumption
audio CODEC (jack audio) and sunhdmi (HDMI audio)
microSD activity to green led (you can change it to blue into rc.local)
X11VNC, SSH (SFTP too) and other basic utils installed
iceweasel browser
Gnome Mplayer (less CPU consumption than lxmusic)
Benchmark tools (@ /root)
Lightweight, only 2GB microSD required. Can be expanded to bigger ones.
Info: users: root / cubie unified password: cubieboard (change it on first boot, please) Default IP: 192.168.1.124 (edit /etc/network/interfaces or use NetworkManager)
A New Nand Image
I want to share a little news, that is I have created a cubieez nand image here according to drkbcn's great work. After downloading and extracting the image, we can flash it to nandflash directly with livesuit/phoenixsuit.
for cubietruck, please use this link
Thanks to drkbcn and the people love cubieboard!